Archive for January 20, 2009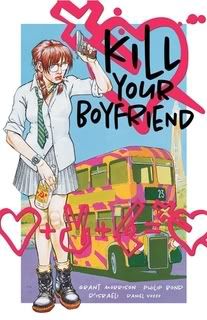 i've got a lot of time for grant morrisson. i don't always like how he approaches things but he has some wonderful ideas. i particularly like his mind-bending stuff, like the filth and flex mentallo which is very much my cup of tea.
i also really rate his arkham asylum which, i recently realised, is even better than i thought it was. thats because i read the special edition last year, containing the original script which is amazing.
kill your boyfriend is about a schoolgirl who is living a boring life with stifling middle class parents and an inattentive boyfriend. she desperately wishes for some fun and meaning to enter her life. it is then when this bloke who she's seen on the bus comes into her life, urges her to kill her boyfriend and whisks her away on an adventure of sex, drugs and a little anarchy.